Esplanade (75)
Sale price

$50.00
Regular price
(/)
Premium Interior Mineral Paint with Functional Wellness Pigments (including clear quartz, hematite, goethite and/or chromite depending on shade)
For interior walls and ceilings
Suitable for residential and commercial applications
Choose options
HEALTH BENEFITS

All-natural
Non-toxic
Zero VOC
No odor or off-gassing
No solvents or plasticizers
No preserva­tives, fungicides or biocides
No synthetic pigments or chemical colorants
Composed of renewable, earthen raw materials (including clear quartz, hematite, goethite and chromite) with wellness benefits
Hygienic due to its high pH
Resistant to mold, algae and fungi growth
Well-suited for allergy sufferers and sensitive groups


PERFORMANCE BENEFITS

Hand-crafted
Made to order
Self-priming / easy application
One coat coverage on most sur­faces
Artist-quality crystalline pigments
Breathable / vapor permeable (does not allow moisture to con­dense and collect)
Improves indoor air quality
Quick drying
Non-film-forming (won't ever peel)
Non-flammable
Anti-static (surfaces stay clean longer)
Lightfast / UV stable (will not fade)
Weather resistant
Water repellent
Abrasion and scrub resistant
Forms a secure, insoluble bond between the paint and the under­lying substrate (drywall, plaster, masonry, concrete, stucco and previously painted latex or acrylic surfaces)
20+ years of satisfactory performance before repainting is necessary
Macro-fill technology for out­standing hiding and final appear­ance
Very durable even in extreme environments


ENVIRONMENTAL BENEFITS

Cradle to Cradle Certified®
Contributory to LEED certification points and United Nations Sus­tainable Development Goals
Cans are made from steel, which is infinitely recyclable
Economical: long renovation intervals and long-term savings; minimum maintenance costs due to long-lasting functionality and appearance
Emission-free: manufacturing sites use renewable energy and short supply chains to improve carbon footprint
Cruelty-free: vegan / not tested on animals
Women-owned small business
Made in USA
1 Quart covers ≈ 65 sq ft
1 Gallon covers ≈ 275 sq ft
3.5 gallons covers ≈ 975 sq ft

We recommend two coats of Alkemis Interior Mineral Paint for optimal coverage, appearance and durability.

It's important to note that coverage will differ based on a variety of factors, such as the surface type, texture and permeability, as well as the application methods, equipment and workmanship.

Need help estimating coverage?

Please note: our Interior Mineral Paint is self-priming in most scenarios. Alkemis Interior Mineral Primer is recommended only for new drywall and masonry, or if you are painting over a very dark or uneven surface.
CLEANING

Interior mineral paints dry to a very hard finish and can be washed effectively to remove surface dirt. Use of water & mild detergent or "cheap" vodka is recommended using a non-abrasive soft sponge or cloth. Wiping excessively with an abrasive media may "burnish" or polish the matte finish and change the appearance. We do not recommend magic erasers.

BEST TOUCH UP PRACTICES

Ideally touch-up should be conducted with the same type of application as the original method (brush, roller or spray).

Application equipment can create a unique "texture" which should be reproduced as much as possible. Use a damp sponge and moisten the mineral paint immediately adjacent to the touch-up area. This will allow you to paint into a damp edge and not a dry one.

Apply touch-up paint as lightly as possible, paying attention not to create "harsh" edges or angular marks. Use only enough touch-up paint to cover the unsightly area. Do not overwork the touch-up paint or you may develop dry edges, which can appear lighter than the original color.

The most critical step is to feather edges of wet touch-up paint from the center of the touch-up area outward in all directions to end with as little paint build as possible. This feathering step will eliminate the potential of a "ridge" of new, thicker paint forming on the wall and being visible from an angle or in raking light.

Please note: mineral paints are darker when wet and dry lighter to match the surrounding dried paint. Anytime the dried paint finish gets wet, as during washing, it naturally darkens, then dries back to the original color.

Need more assistance? Have additional questions? We are here to help! Please contact us at support@alkemispaint.com.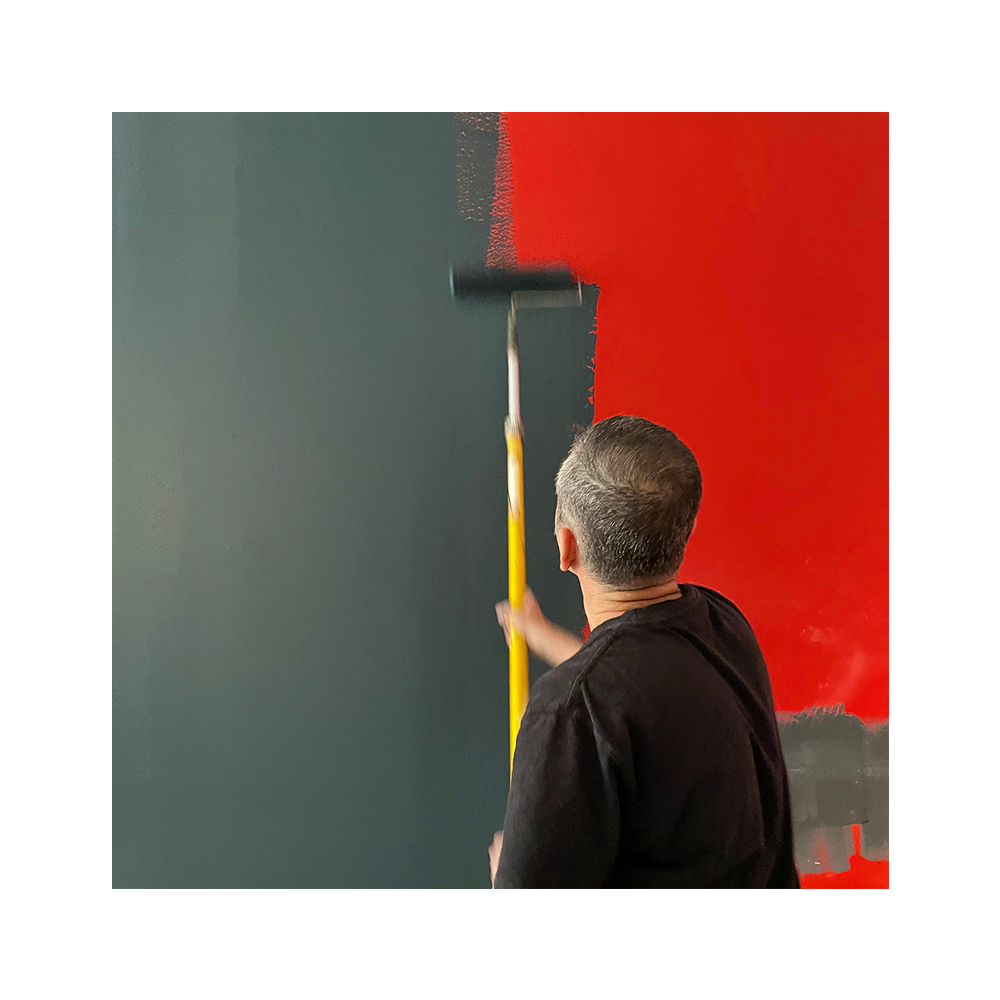 APPLICATION INSTRUCTIONS
1. INTRO
Alkemis Paint is easy to apply and requires no special equipment or training. Its advantageous attributes and outstanding performance can be best accomplished using the following process.

USE ON: Walls and ceilings of new or previously painted drywall, plaster, brick, masonry, concrete, stucco or stone. Not recommended on glossy paints or varnish, floors, wood or plastic surfaces.
PLEASE NOTE: Mineral paints appear darker when wet and will dry lighter.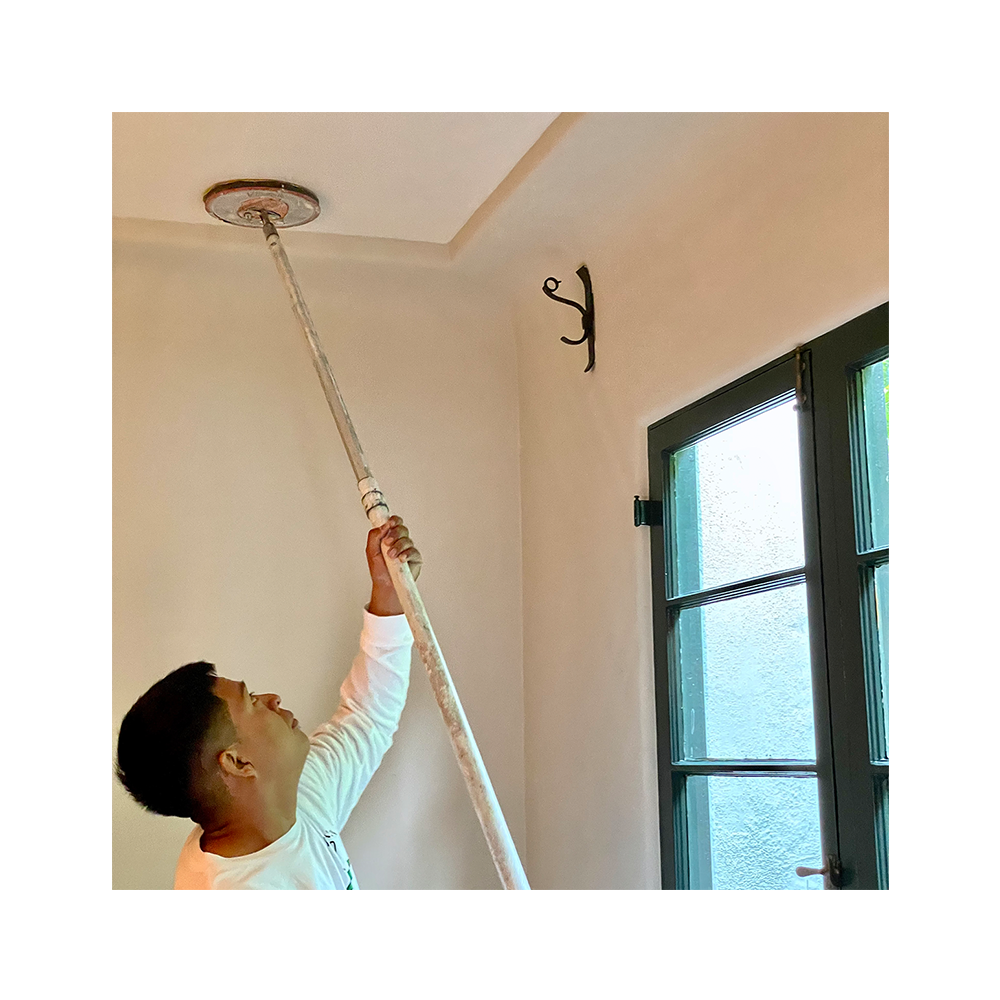 APPLICATION INSTRUCTIONS
2. PREP
Surface must be clean, dry and free of dust and contaminants. Prior peeling paint should be removed and sanded smooth. New plaster or masonry should be cured at least 7 days. New drywall or masonry should be primed with Alkemis Mineral Primer.
APPLICATION INSTRUCTIONS
3. MIX
Stir all containers thoroughly, preferably with slow speed drill and paddle mixer. If you don't have a paddle mixer, stir vigorously with wooden stir stick.
For large surfaces, boxing paint (combining paint into a larger container) helps prevent shade variations from bucket-to-bucket.
Please keep lid on unused paint, so it does not dry out.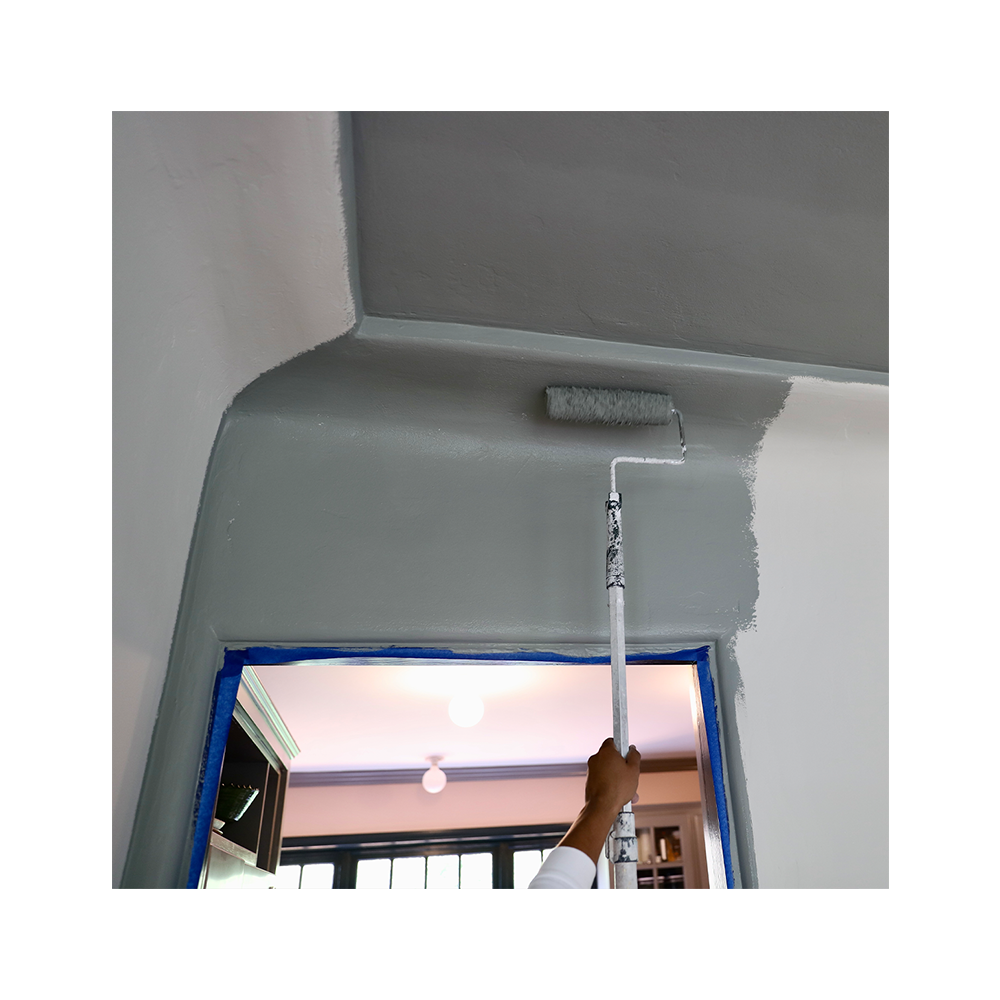 APPLICATION INSTRUCTIONS
4. PAINTING
Paint can be applied as supplied. Alternatively, up to 10% water may be added to the first and second coat to make it easier to keep a wet edge so you do not get lap marks. Do not apply more than 10% water as it will impact the washability of the surface.
Add:
3 oz. for 1 quart
1.5 cups for 1 gallon
5.5 cups for 3.5 gallon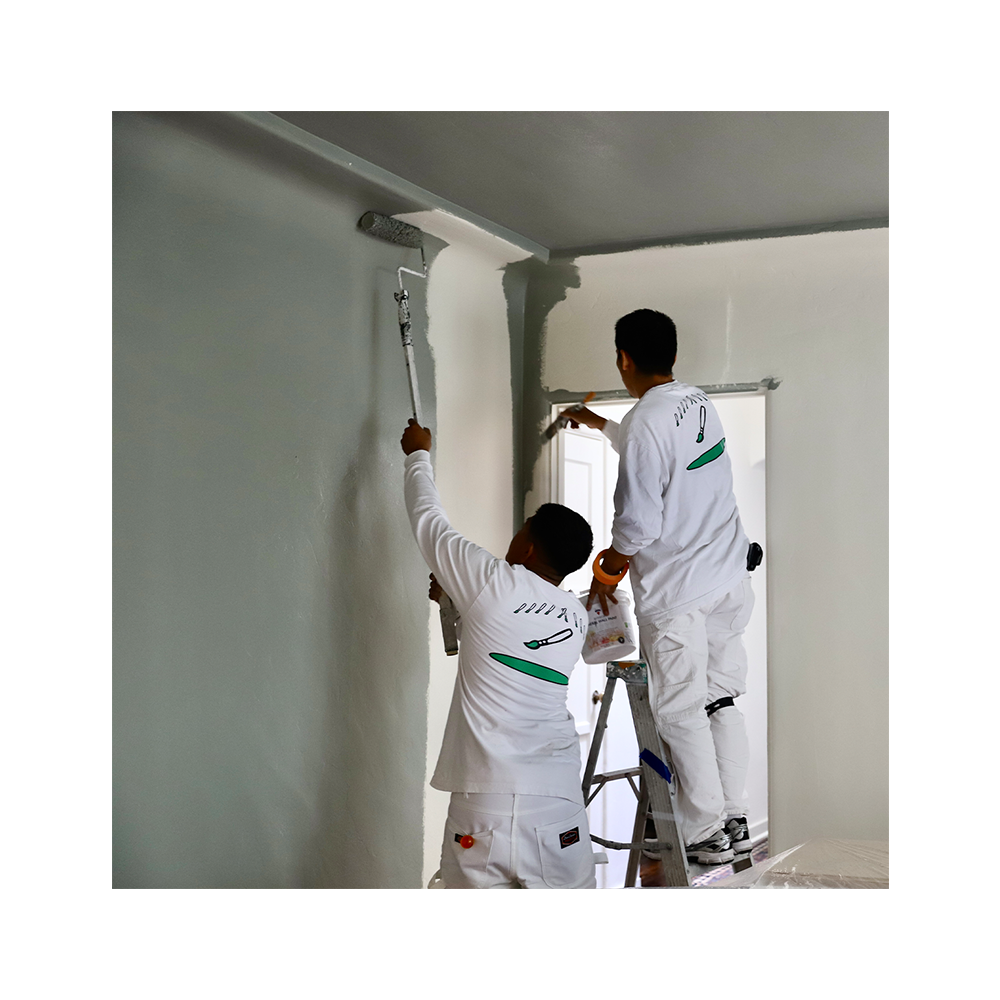 APPLICATION INSTRUCTIONS
5. APPLICATION
Work quickly as paint is fast-drying.
Cut-in with a nylon/polyester brush. Only cut-in what you can paint within an hour. Use a 3/8"—1/2" nap synthetic roller and roll into damp cut-in paint.
Last pass should be from ceiling to floor to even out roller pattern.
May be applied by airless spray, 3000 PSI minimum with 0.25—0.29" tip. Remove manifold and spray gun filters.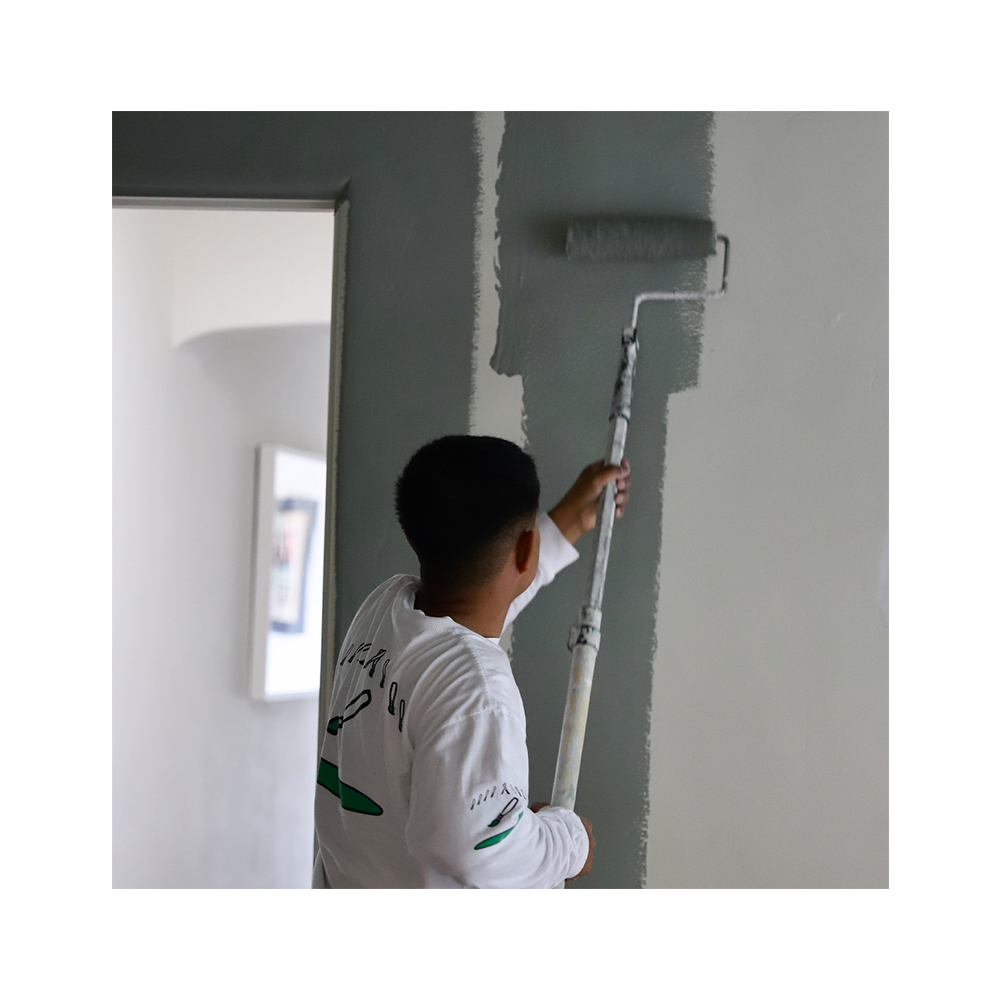 APPLICATION INSTRUCTIONS
6. TEXTURE/APPEARANCE
For a consistent matte mineral finish, roll on or spray two coats.
Back roll for most even appearance.
For a velvety texture, apply the second coat with a block brush in an X pattern.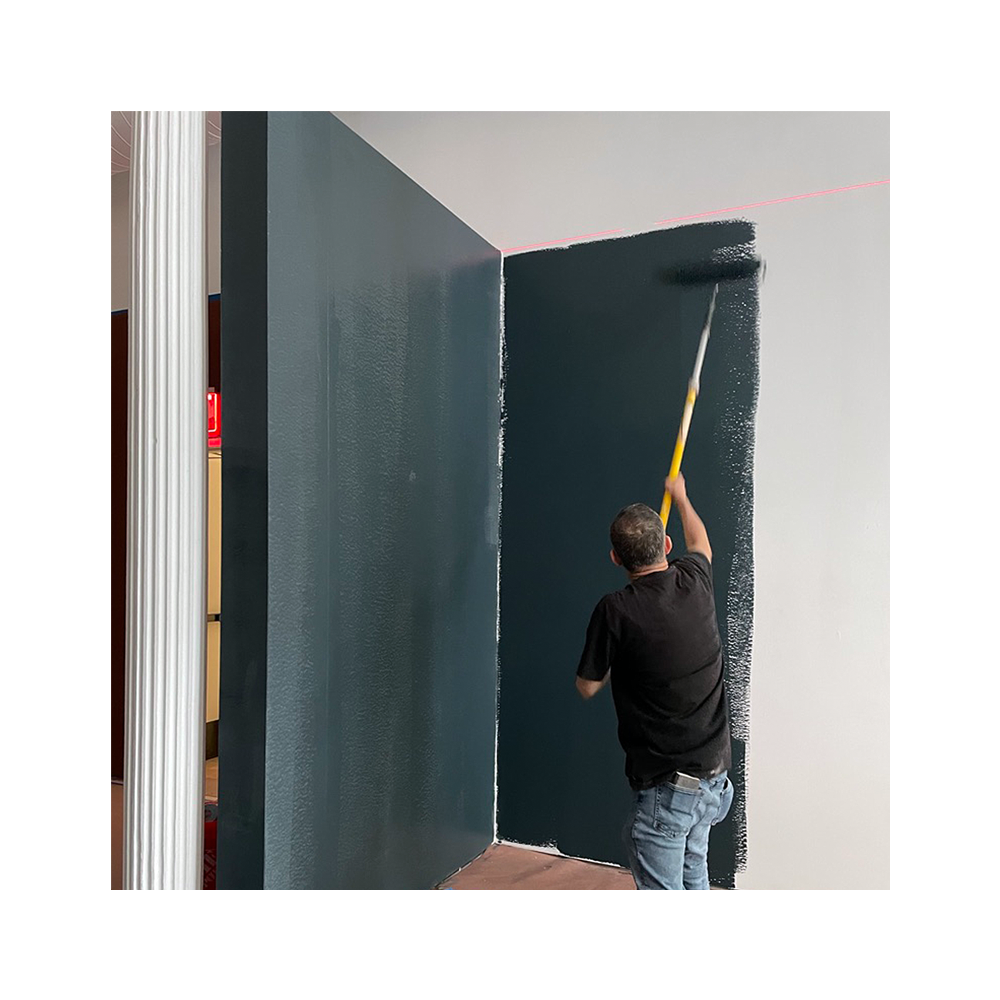 APPLICATION INSTRUCTIONS
7. FIRST COAT & TOP COAT
Consistently apply first coat to cover surface with no runs. Allow to dry 2—4 hours.
For best results apply second coat and allow to dry overnight.
See tech data sheet for more details.
NEED A CUSTOM COLOR?
Please contact us and our color specialists will work with you to develop your dream paint color.